Dessert / Sweet
Fresh Water Chestnut Panacotta with Pecan nut and Honeycomb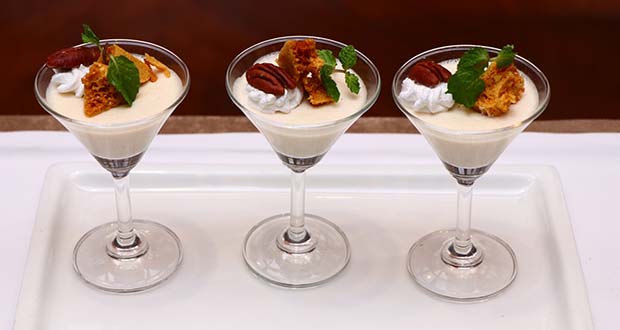 A healthy dessert option with a nutty twist. You wouldn't turn to anything else after this unique and delicious Panacotta recipe.
Ingredients Of Fresh Water Chestnut Panacotta With Pecan Nut And Honeycomb
375 Ml Cooking cream

150 Ml Milk

175 Gram Chestnut puree

1 Nos Orange rind

A pinch of Cinnamon powder

7 Gram Gelatine Leaves

For Honeycomb:

50 Gram Honey

125 Gram Glucose

15 Gram Baking soda

325 Gram Sugar

60 Ml Water
How to Make Fresh Water Chestnut Panacotta with Pecan nut and Honeycomb
Combine cream, milk, chestnut puree, orange rind, cinnamon powder in a sauce pan and bring to a boil over moderate heat.

Soak gelatine leaves in cold water for 2-3 mins or until soft. Drain the excess water and add to the milk mixture.

Strain mixture through a fine sieve in a jug and allow it cool. Then divide the mixture in to small glasses and refrigerate for 6-8 hours. Mix all the ingredients except baking soda.

Cook until the syrup turns light amber in colour.

Turn off the heat and quickly add baking soda. Stir well to combine. Pour the mixture in to the greased tin and allow it to cool.

Cut in to desired shape and serve with panacotta.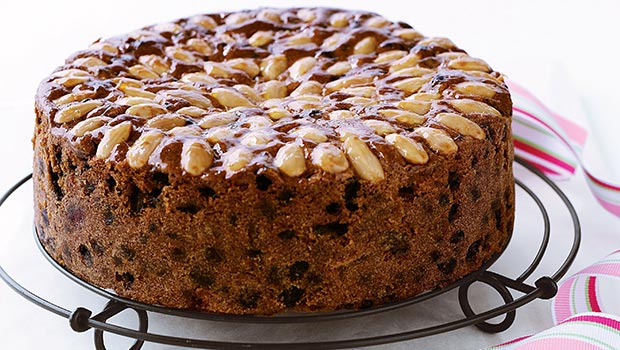 The classic christmas cake with delicious apple pie covered in tarts and cherries. Christmas would be incomplete without relishing on this fruity-sweet cake.
Ingredients Of Mother Christmas Cake
3 Cups Tart Apples (2 large), peeled

2 Cups Sugar

1/2 Cup Apple juice

3 Eggs

3/4 Cup Vegetable oil

1 tsp Vanilla extracts

3 Cups All-purpose flour

2 tsp Apple pie spice (cinnamon)

1 tsp Salt

2 Cups Pecans, finely chopped

1/2 pound Candied red cherries (halved)

1/2 pound Candied green cherried (halved)

1/2 pound Candied pineapple (diced)

Cashews (optional), salty
How to Make Mother Christmas Cake
Line three 8×4-inch loaf pans with waxed paper

Grease the paper and set aside.

In a large bowl, combine apples, sugar and apple juice; let stand for 15 minutes.

In a bowl, combine the eggs, oil and vanilla.

Add to apple mixture; mix well.

Combine the flour, apple pie spice, baking soda and salt; add to apple mixture and mix well.

Fold in pecans, cherries and pineapple.

Pour into prepared pans.

Bake at 350° for 55-65 minutes or until a toothpick inserted in the center comes out clean.

Cool for 10 minutes before removing from pans to wire racks.

Remove waxed paper.

Cool completely.
Faldhari Badam ki Burfi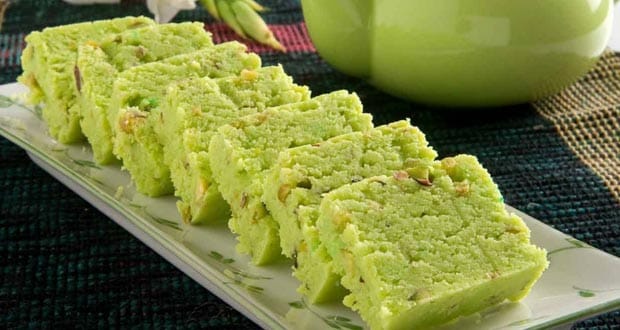 A sugar free Mithai to savour this festive season without worrying about health!
Ingredients Of Faldhari Badam Ki Burfi
1 1/2 Cups Mawa (crushed)

1 Cup Dehydrated Mix Fruits, chopped

1/2 Cup Mixed Nuts(Walnuts, Almonds, Pistachios and Figs), chopped

1/4 tsp Cardamoms

A pinch of Nutmeg Powder

Sugar – 45 Gm
How to Make Faldhari Badam ki Burfi 
Combine the Mawa and Sugar in a deep non-stick Kadhai.

Mix well and cook on a medium flame for 5 minutes, while stirring occasionally.

Add the mixed Nuts, Dehydrated chopped fruits, Cardamom Powder and Nutmeg Powder.

Mix them well.

Put the mixture into a greased Aluminum tin.

Keep aside for 5 hours to let the mixture cool down.

Cut into equal pieces and serve.
Copyright © 2018 Hasnain Zaki. All Rights Reserved.