Pasta / Spaghetti / Noodles
Pasta with Tangy Tomato Sauce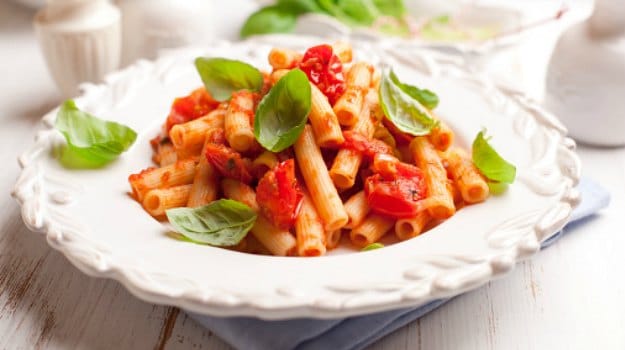 Freshly made wheat flour pasta tossed with veggies and mingled with fresh tangy tomato sauce! This recipe is a great steal for your kid's hunger pangs and solve all the tiffin problems as this is quick and can be easily packed.
Ingredients Of Pasta With Tangy Tomato Sauce
For Pasta:

1 Cup Wheat flour/Rye four/Barley flour

1/4 Cup Water

A pinch of Rock salt

For Sauce:

5-6 Medium Tomatoes

50 Gram Fresh ginger

10-15 leaves/1 tbsp Fresh / Dry basil leaves

1/4 tsp Cinnamon powder

1/4 tsp Black pepper, grated

To taste Rock salt

For Pasta and Sauce mix:

50 Gram Carrot

25 Gram Capsicum

50 Gram Zucchini

25 Gram Pumpkin

50 Gram Avocado

1 Tbsp Basil leaves
How to Make Pasta with Tangy Tomato Sauce
Prepare Pasta:

1.In a deep broad bowl add salt to the flour and then add water and knead a soft dough.
2.Roll it in to square or round chapatti and cut into thin strips with a sharp knife.
3.Put these pieces in boiling water carefully and boil them for 8 – 10 minutes.
4.Remove from flame and let it stay for 5 -10 minutes.
5.Carefully drain out the hot water and add cold water to the pasta. Strain the pasta again. Pasta is ready to be put into the sauce.

Prepare the Sauce:

1.Steam tomatoes and fresh ginger for 5 – 7 minutes.
2.Grind to a smooth puree and strain it.
3.Add basil, cinnamon powder, rock salt and black pepper and let it simmer on medium flame for 2 minutes.

Prepare the dish:

Steam the chopped carrots, capsicum, zucchini, pumpkin and avocado for a few minutes.

Mix the steamed vegetables with the tangy tomato sauce. Leave to stand for ten minutes.

Toss pasta with the tangy tomato sauce and steamed vegetable mixture.

Garnish with fresh basil leaves and serve immediately.
Spaghetti with Clams & Crispy Bread Crumbs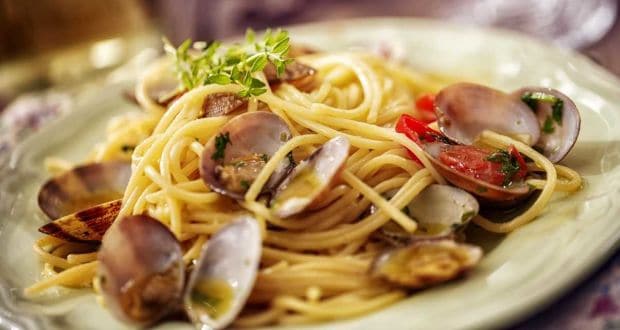 Spaghetti with Clams and Crisp Bread Crumbs is a delicious recipe that you can prepare for your friends and family for parties. It is simple recipe and you can follow this quick and easy recipe.
Ingredients Of Spaghetti With Clams & Crispy Bread Crumbs
1/4 Cup panko

1/4 cup plus 1 tablespoon extra-virgin olive oil, plus more for drizzling

Kosher salt

Freshly ground pepper

2 large, thinly sliced garlic cloves

3 dozen Manila clams or cockles, scrubbed

1 Cup dry white wine

450 Gram spaghetti

1 tsp lemon zest, grated

3 Tbsp lemon juice

2 1/2 Tbsp mullet bottarga grated

1 tsp crushed red pepper

2 Tbsp thyme, finely chopped

2 Tbsp rosemary, finely chopped

2 Tbsp parsley, finely chopped
How to Make Spaghetti with Clams & Crispy Bread Crumbs
In a medium skillet, combine the with 1 tablespoon of the olive oil and toast over moderate heat, tossing, until golden, about 3 minutes. Season with salt and pepper and transfer to a small bowl.

In a deep skillet, heat the remaining 1/4 cup of oil. Add the garlic and cook over moderate heat until fragrant, about 1 minute. Add the clams and wine and simmer over moderately high heat until the wine is slightly reduced and the clams just start to open, about 4 minutes.

Meanwhile, in a large pot of salted boiling water, cook the pasta until al dente. Drain, reserving 1/2 cup of the cooking water. Add the pasta, cooking water, lemon zest and juice, red pepper and herbs to the clams and toss over moderately high heat until the pasta is well coated and the clams are completely open, 2 minutes. Discard any clams that do not open. Season with salt and pepper, sprinkle with the toasted and serve.

Bottarga is the roe of tuna or mullet that has been salted, pressed and dried; it can be grated or shaved paper-thin. 
Fusilli Tomatina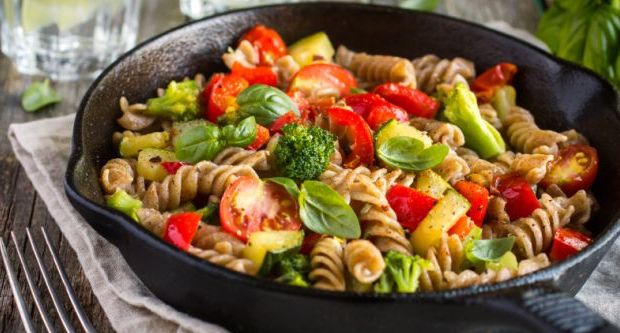 Fusilli pasta cooked in a herb-y, tomato-based, sensational sauce makes an easy and anytime meal.
Ingredients Of Fusilli Tomatina
200 gms fusilli pasta

Water, for boiling

Salt, to taste

4 Tbsp oil

3 medium tomato, chopped

1 green chilli, chopped

6 cloves of garlic, finely chopped

1 sprig of spring onion, chopped

2 onions, chopped

2 pinches of dried herbs

2 tbsp of tomato sauce chilli sauce, optional

A few sprigs of parsley for garnish
How to Make Fusilli Tomatina
For pasta:

Boil 2 liters of water.

In the boiling water, add 2 tsp salt and 1 Tbsp oil.

When the water is past boiling point, add the pasta. Keep stirring.

Cook for 10-12 minutes or until al dente. Drain and use immediately.

If using later, drizzle with oil and keep aside.

For sauce:

Take 3 Tbsp oil in a pan and add the chopped garlic.

Add the dried herbs.

When it starts giving out a little aroma, add the chopped onions and fry for 1 minute.

Add the chopped green chillies, spring onions and chopped tomatoes and fry for another 1 minute.

Now add the boiled pasta, salt to taste and sauce.

Add a little chilli sauce if spicy is preferable.

Garnish with parsley and serve hot.

Note: You may also add diced mushrooms and broccoli for a more wholesome meal.
Copyright © 2018 Hasnain Zaki. All Rights Reserved.