Fish-flavour & Dishes
Any self-respecting seafood-restaurant menu will have numerous different types of fish to order. While you might be familiar with cod or salmon, a long list of seafood begs the question: what do all of these fish taste like?
we've organized them into three fish-flavor profiles.
Flavor #1: Mild
Branzino, tilapia, halibut, cod, sole, perch, walleye, catfish
How they taste: These are often types of white fish, and tend to be very versatile. "[When people say] they want fish that doesn't taste like fish … they're looking for something mild." 
How to prepare them: You can dress them up with marinades and toppings—and in fact, you might have to, because the mildest of them will be quite bland otherwise. 
Flavor #2: Medium
Yellowtail or kampachi, snapper, swordfish, grouper, trout
How they taste: Medium-flavored fish "have a nice flavor to them [that] won't scare people away," said Dirk. They're the jacks-of-all-trades in the fish world, in that you can add a little or a lot to them and end up with a lovely meal either way.
How to prepare them: If you're eating one for the first time, Dirk recommends using only the most basic marinade: olive oil, salt, pepper, and lemon zest. That way, you can recognize the fish's base flavor and decide whether or not you like it.
Flavor #3: Full
Salmon, tuna, bluefish, mackerel, sardines, anchovies, herring
How they taste: Sometimes called oily fish, full-flavored fish have dark flesh and a very distinctive taste. They might evoke the briny deep with saltiness, or, as is the case with salmon, have a strong flavor profile all their own.
How to prepare them: Maybe let a pro handle it. When prepared the right way, they can be just as decadent as any slab of steak (this is why they tend to be the most expensive type of fish). Dirk showed us an Ora King salmon from New Zealand that he calls "the wagyu of salmon, because it's got such a nice fat content … when you cook this, you don't even have to chew it." While they can get a bit costly, the good news is that these fish are also some of the healthiest fish to eat, particularly wild-caught salmon, tuna, and sardines.
One easy trick to determine a fish's flavor
If you don't have this handy guide on hand at a restaurant, just remember this test: you can usually figure out a fish's flavor by the color of its uncooked fillet. The whiter the flesh, the milder the taste. Here's a picture of a flavor spectrum ranging from full to mild: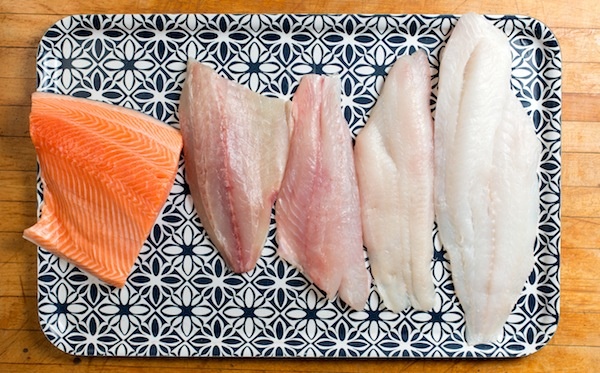 From left to right, ranging from full to mild flavor: salmon, yellowtail, snapper, cod, sole
Fish  Dishes
Fried Whole Fish with Tomatillo Sauce
Cutting those slits in the fish is key. They help the fish cook more quickly and make it easier to tell when it's done.
Yield : 4 Servings
Ingredients
1 bunch cilantro

8 ounces tomatillos, husks removed, rinsed, coarsely chopped

1/4 cup drained jarred pickled jalapeños, plus 1 tablespoon (or more) brine from jar

Kosher salt

3 cups vegetable oil

1 (1 1/2–2-pound) whole fish (such as black sea bass or red snapper), cleaned

Warm tortillas (for serving)
Preparation
Trim cilantro at the point where it becomes more stem-y than leafy; set leaves with tender stems aside for serving. Coarsely chop about 1/2 cup worth of stems and place in a blender along with tomatillos, pickled jalapeños, and pickling liquid. Purée until smooth; taste and season sauce with salt and more pickling liquid if desired.

Heat oil in a large cast-iron skillet over high. Transfer fish to a cutting board and pat dry thoroughly with paper towels. With a sharp knife, make slashes crosswise on a diagonal along the body of the fish every 2″ on both sides, cutting all the way down to the bone. Season fish generously inside and out with salt.

When the oil is hot—it should be shimmering, and when you drop a small piece of tortilla into the oil it should begin sizzling immediately—grip the fish firmly by the tail and carefully lower, head first, into skillet, making sure to lay it down away from you. (If the tail sticks out of the pan a bit, it's not a huge deal.) Fry until flesh on bottom side is cooked through and skin is deeply browned and crisp, about 4 minutes. While the fish is frying, use a metal spoon to baste the inside of the fish's head with a bit of hot oil periodically. Use tongs and a fish spatula to carefully turn fish over. Fry until flesh on second side is cooked through and skin is deeply browned and crisp, about 4 minutes. Transfer to a wire rack and season both sides with more salt.

Pour tomatillo sauce onto a rimmed platter and gently place fish on top. Tuck reserved cilantro into the cavity between the fish's head and body and around the fish. Serve with tortillas.
Fish Milanese with Cucumber Ceviche
Think of the cucumber as a crunchy and spicy relish that somehow makes fried fish even better.
Ingredients
Cilantro oil:

4 cups cilantro

1 1-inch piece ginger, peeled, finely grated

1/2 cup neutral oil (such as sunflower or canola)

3 tablespoons fresh lime juice

Fish and assembly:

4 cups panko (Japanese breadcrumbs)

4 large egg yolks

2 cups buttermilk

1 cup cornstarch

4 skinless, boneless gray sole or flounder fillets (about 1 1/2 pounds total)

3 medium Persian cucumbers, cut into small pieces

1 medium fennel bulb, cut into small pieces

1/2 small red onion, very thinly sliced

1/2 serrano chile, thinly sliced
Preparation
Cook cilantro in a medium pot of boiling salted water until wilted, about 20 seconds. Drain and transfer cilantro to a bowl of ice water. Swish around in water to cool. Drain, then squeeze excess liquid from herbs with your hands.

Purée cilantro, ginger, and 2 Tbsp. water in a blender until almost smooth. With motor running, gradually stream in oil and blend until smooth. Strain cilantro oil through a fine-mesh sieve into a small bowl; discard any solids. Mix lime juice into oil and season with salt.

Do Ahead

Cilantro oil (without lime juice and salt) can be made 1 day ahead. Cover and chill. Bring to room temperature before adding lime juice and salt.

Fish and Assembly

Process panko in a food processor until very finely ground (it will only take 45–60 seconds). Transfer to a shallow bowl. Place egg yolks in another shallow bowl and whisk in buttermilk. Place cornstarch in a third shallow bowl. Line a rimmed baking sheet with paper towels and set a wire rack inside.

Working with 1 fillet at a time, season with kosher salt on both sides and dredge in cornstarch, shaking off excess. Dip in egg mixture, letting excess drip back into bowl, then coat in panko, pressing to adhere before shaking off excess. Repeat steps to make a second coating. Place on a rimmed baking sheet. Repeat with remaining fillets.

Pour oil into a large heavy skillet, preferably cast iron, to come 1″ up sides. Heat oil over medium-high until an instant-read thermometer registers 350°F–365°F (Don't let the tip of the thermometer touch the bottom of the skillet). Carefully lower a fillet along the side of skillet closest to you and let slide away from you into oil. Carefully swirl oil in skillet and cook fish just until golden on the bottom, about 2 minutes. Using a fish spatula or slotted spoon, carefully turn fish over and cook until golden on the other side, about 2 minutes. Transfer fish to wire rack in prepared baking sheet and season with sea salt while still hot. Repeat with remaining fillets.

Toss cucumbers, fennel, onion, chile, cilantro oil, and a pinch of kosher salt in a medium bowl and top with some cilantro.

Serve fish with cucumber ceviche and lime wedges.
Fried  Catfish
 Brines catfish before dredging it in seasoned cornmeal to keep it super moist.
Ingredients
3 tablespoons plus 3/4 teaspoons kosher salt, divided

3 tablespoons hot pepper sauce

6 5-7-ounce U.S.-farmed catfish fillets

1 1/2 cups white cornmeal

2 tablespoons all-purpose flour

2 1/2 teaspoons baking powder

1 teaspoon freshly ground black pepper

1 teaspoon garlic powder

1/2 teaspoon cayenne pepper

3 cups (about) vegetable oil

Special Equipment
Preparation
Whisk 3 tablespoons salt, hot pepper sauce, and 8 cups hot water in a large bowl until salt dissolves. Chill in freezer until cold, about 30 minutes. Place catfish in brine, cover, and refrigerate for 3 hours.

Whisk cornmeal, next 5 ingredients, and remaining 3/4 teaspoon salt in a medium bowl. Attach deep-fry thermometer to the side of a 10″ cast-iron skillet or other large heavy skillet. Add oil to come a little less than halfway up side of skillet. Heat over medium heat until thermometer reads 335°F.

Rinse catfish; pat dry. Dredge catfish in cornmeal mixture, shaking off excess. Working with 2 fillets at a time, fry catfish, turning halfway through, until golden brown and crispy, 10-12 minutes per batch. Transfer fish to paper towels to drain.
Copyright © 2018 Hasnain Zaki. All Rights Reserved.